Challenges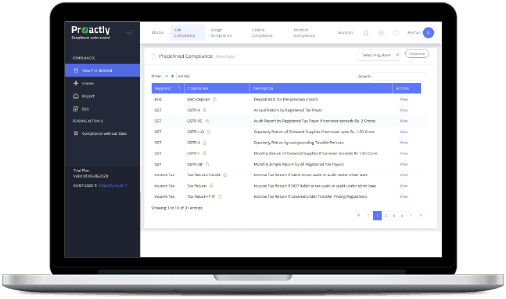 The client wanted to build a product that changes how the organization supervises legal processes & its documents. They wanted to make the work process of the compliances with no distraction at all.
The crucial requirement of the client was to create a simple workflow catering every association needs, to ensure that it is customizable and adjustable to organization's focal points.
Moreover, the client wanted an online secured library for all the compliances, alongside the custom task management, smart reminders and alerts.
Birds eye view of happenings in the organization.
Solutions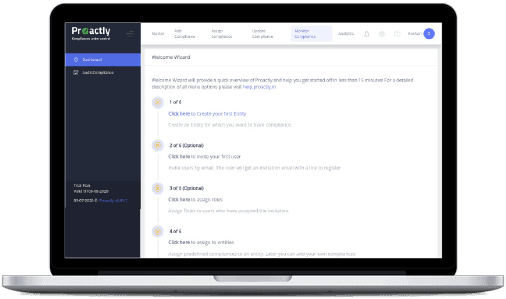 A proof of concept was initially carried out and launced as first version.
Proactly completely computerized the control of organization compliance activities and assists with dealing with all related documentation, reporting, and workflows. It permits organizations to direct audits, get real-time feedback and, therefore, accomplish flexibility and full transparency in their internal processes. With the assistance of Proactly, organizations can rapidly identify and handle potential risks.
With the assistance of the AWS, clients can store each one of their records with standards in a single place, discuss them with colleagues, and give everything a unique identifier. Notifications may pop up in the accompanying cases, when new measures show up or changes are made to the present ones, just as to remind about compliance actions and deadlines.
A task management framework will help our employees effectively manage, update, and improve compliance processes. Tasks can be connected to each document with standards and marks with different statuses. The Top-level management can also receive warnings about the task status, just as reports about the work done.